165 Firehouse Road • Grantville • Pennsylvania • 17028 • (717) 469-7181
"That all may know Jesus and grow in God
WORSHIP SERVICES 7:45 AM & 10:15 AM
YouTube Channel
https://www.youtube.com/channel/UCdkzDpB5Mr9RdW6TKggekgw
Facebook
https://www.facebook.com/St-Johns-United-Methodist-Church-151747538217584/
Online Giving
Questions? Concerns? Need Directions?
Contact Us:
165 Firehouse Road * Grantville, PA 17028 * 717-469-7181
***SNOW WATCH***
Please tune into the following stations for inclement weather cancellations:
Radio: 90.3 FM • TV: Channel 21 or Channel 27
Church Office Hours:
Wednesday 1-4 p.m.
If you need tor each the secretary at another time please call:
Anna Goss 717.315.6276 or email:
Rev. Dennis M. Adams • 717-469-2489
Directions
From Hershey: Take Hershey Park Drive to 39 North/Hershey Road. Travel on 39 for about 4.5 miles.
Turn right onto Allentown Blvd/US-22 East. Travel on US-22 for about 4.4 miles. Turn left at Fire House
Road the church is on your left at the top of the hill. There is parking on both sides of the church.
Enter through either door on either side and join us in our morning worship.
From Lebanon: Head North on PA-72/Quentin Road, toward Poplar Street, continue to follow PA-72.
Turn left at Maple Street/PA-72 North, you will be on PA-72 for 6.7 miles. You will then merge
onto US-22 West, toward Harrisburg. Travel on US-22 for 8.8 miles. Turn right at Fire House Road
the church is on your left at the top of the hill. There is parking on both sides of the church.
Enter through either door on either side and join us in our morning worship.
From Harrisburg: Head North on 1-81 North, travel on here for about 13.3 miles. Take exit 80 toward
Grantville/ PA-743 South/Hershey. Merge right onto Bow Creek Road. Turn left at the traffic light
which will be Jonestown Road. Turn right at Fire House Road, the church will be on your right.
Enter through either door on either side and join us in our morning worship.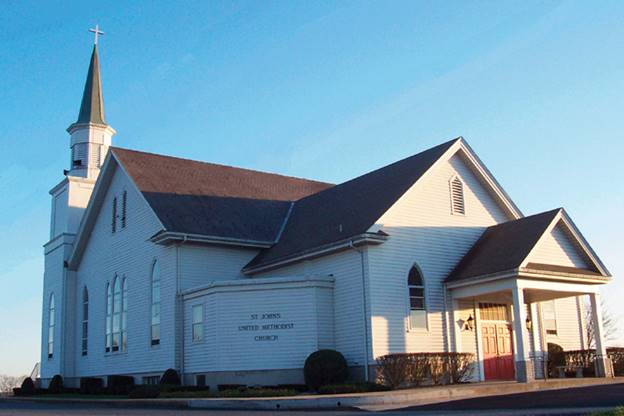 Worship Services
If you do not have a church home, we would encourage you to come to our fellowship.
If you have questions, please feel free to speak with any member to seek further information.
We pray you will be blessed through your fellowship with us and God's Word.
*******************************
Sundays at 7:45 am Tradition Service
10:15 am Blended Service
*Nursery available for you to use with close circut television.
Adult Sunday School at 9:00 am
•••••••••••••••••••••••••••••••••••••••••••••••••••••••••••••••••••••••••••••••
Blended Service
Our blended service is a mixture of contemporary music and traditional music which allows everyone to
experience the way to worship best. Music may be provided by praise band, orchestra, choir, or organ
in which they will use along with screen projection of song lyrics, video clip selections, slide shows and
announcments. The use of this technology allows for greater individual freedom of expression during
our worship time.
The occasional use of skits may be included to help bring simple every day aspects of life across in an
alternate form. Sharing time of praises and concerns is provided for anyone who wishes to share their
story. All of this, along with a "Life application" message to tie it all together helps us all get our week
started int he best possible way.
Our mission in offering this alternative srvice is consistne with our church mission - that all may know
Jesus, and grow in God. Our mission is also to encourage service from any group or individual willing to
share their gifts of special music, prayer, leadership, or any other talents such as operation of sound
or video equipment, hosting social time, etc.
Our Ministry Groups
St. John's Supports ScoutsBSA Troop 262
About Our Pastor
Pastor Dennis Adams is originally from Lancaster, Pennsylvania.
He has previously served churches in Coudersport and Houtzdale/Madera, also in the
Susquehanna Conference. He joined our congregation in July 2007 along with his wife
Carol and their two sons.
When Pastor Dennis isn't busy visitng members of the congregation, he can be found singing in
the choir or helping with the youth group. He is a member of the Hummelstown Rotary Club,
and was the presdient for two years. Carol enjoys babysitting, participating in the choir, helping
at the local food pantry, and the Grantville Area HUB.
Carol and Dennis have two sons and three grandchildren.
*************************************************************************************************************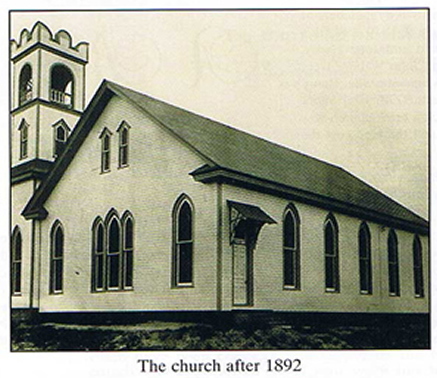 Church History
The United Brethren class was organized in 1848 by membersof Sherk's Church, living in Mechanicsville.
On August 9th, 1849 at Sherk's Camp meeting, the Quarterly Conference was held and John Henry,
William Runkle, Henry Sherk, Michael Sherk, and John Walmer were appointed as trustees to erect a meeting
house at Mechanicsville. Henry Staub and Solomon Von Neida were the pastors at this time.
Michael Sherk donated a lot 57 1/2 square acers upon which a brick church was built in 1850.
The deed is dated June 19th, 1852 and the land cost the trustees 10 cents.
In the year 1865, in honor of General U.S. Grant, victorious leader of the Union Army in the Civil War,
the name of Mechanicsville was changed to Grantville as we know it today.
Between 1892 - 1893 a second building, a frame structure was erected at a cost of $7,700.
The sanctuary as was 40 by 64 feet and the Sunday school room was 33 by 26 feet. The cornerstone was
laid on September 4th, 1892. Only a few years after its completion a severe storm came along and twisted
the structure. Though repaired to some extent then, it remained a menace t
o safety until 1921. It was
then renovated and refurbished at a cost of $6,500.
Re-opening services were held June 18th 1922.
The fourth major building program in 100 years was ready
for dedication on May 6th, 1951. The project included a modern
basement under the entire existing building, and under the
church auditorium was a large auditorium divisible into seven
classrooms. Under the previous Sunday school rooms were
completely redecorated and a new chancel choir section,
organ and indirect lighting were also added. The exterior of
the building was repainted entirely and a new tower with a belfry was ereceted and topped with a
stainless-steel cross. The grounds were re-graded and landscaped.
In 1960, St. John's Evangelical United Brethren trustees pruchased the present parsonage on Short Drive
from Faith United Church of Christ. It was dedicated on Sunday, November 20th, 1960.
In 1966 the well-known local artist, William Rohrbeck, was commissioned to paint the 12 by 4 foot
DaVinci's "The Last Supper" to be hung in the overflow area. The painting is a memorial from the
family of the late John D. Sandy, and was dedicated by the Reverand William Boyer.
On April 23rd, 1968, the Evangelical United Brethren Church united with the Methodist church to
become St. John's United Methodist Church. In 1970 the basement was renovated and a kitchen was
installed along with other improvements.